Chọn ảnh đại diện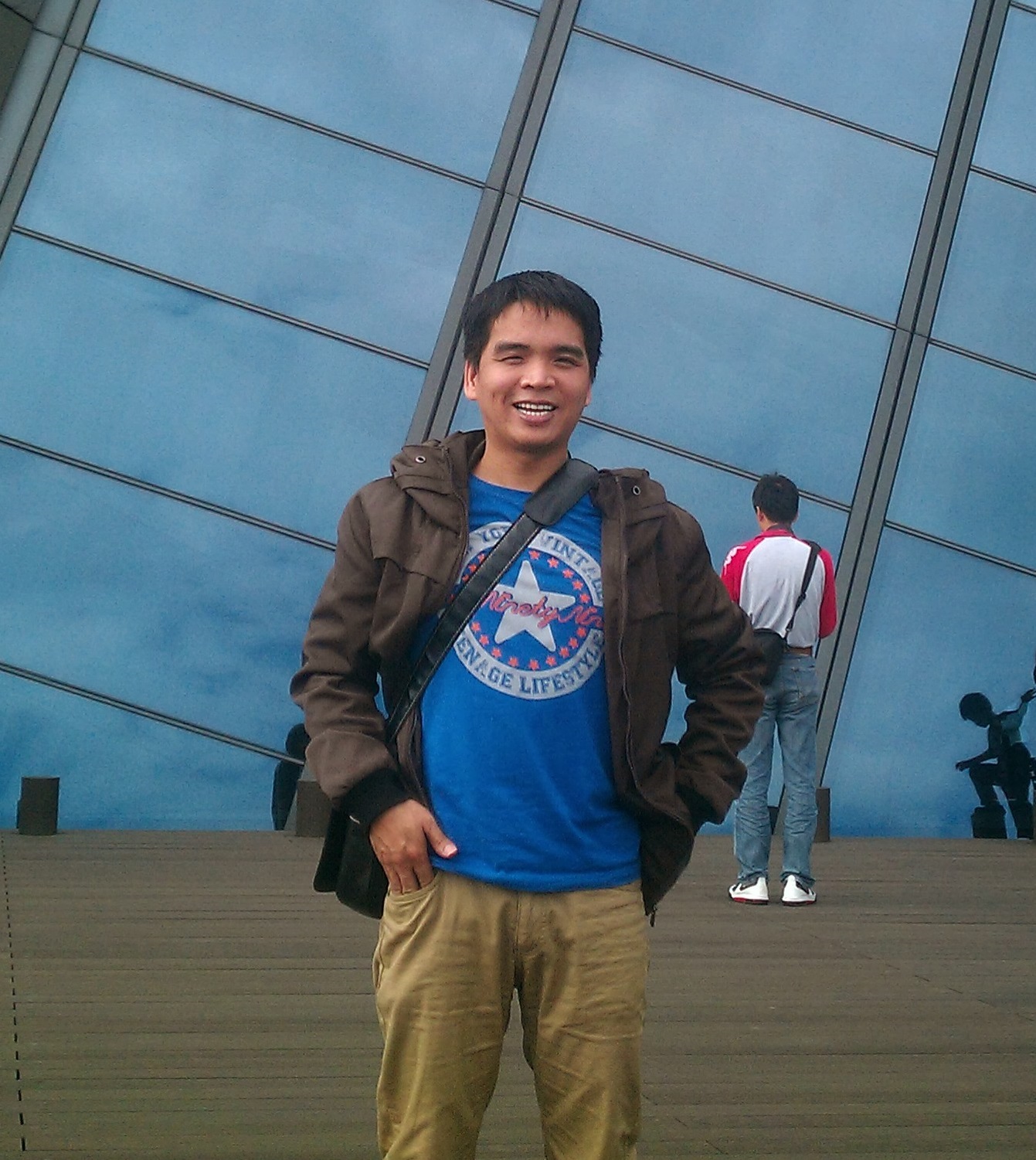 Lý lịch sơ lược
---
Đỗ Quang Hưng
Tiến sĩ kỹ thuật
Phòng 403 - H1, Đại học Công nghệ GTVT, số 54 Triều Khúc, quận Thanh Xuân Nam, Hà Nội
024 3552 4990
hungdq@utt.edu.vn
Hà Nội
Khoa Công nghệ thông tin
---
Quá trình đào tạo
1. Đại học:
Đại học Bách Khoa Hà Nội
KT Điện tử - Tin học
Cử nhân Ngôn ngữ Anh
2005
2. Sau đại học:
KT Điện tử - Tin học
2005
Kỹ thuật các hệ thống thông tin
2013
Taiwan
Using artificial intelligence techniques in forecasting
3. Ngoại ngữ
4. Chứng chỉ:
•"Summer school on statistical machine learning", August 2015, Vietnam Institute for Advanced Study in Mathematics (VIASM), Hanoi, Vietnam; • "Spoken English and IT Skills", March 2009, NIIT, New Delhi, India; • "Training Course for ICT in Education", October 2008, Gyeongsangnam-do Office of Education, Republic of Korea.
---
Quá trình công tác chuyên môn
| | | |
| --- | --- | --- |
| 9/2002-9/2010 | Đại học CN GTVT | Giảng dạy, NCKH |
| 9/2010-10/2013 | FCU, Taiwan | Nghiên cứu viên, Giảng dạy Sau đại học |
| 10/2013-9/2014 | FCU, Taiwan | Postdoctoral fellow (Nghiên cứu sau tiến sĩ) |
| 9/2014-nay | Đại học CN GTVT | Giảng dạy, NCKH; Phản biện (reviewer) cho các tạp chí ISI, SCI-indexed journals: Applied Soft Computing, Journal of the Operational Research Society, Iranian Journal of Fuzzy Systems, Journal of Intelligent Manufacturing |
---
Quá trình nghiên cứu khoa học
1. Các đề tài nghiên cứu khoa học đã tham gia
| | | | | |
| --- | --- | --- | --- | --- |
| 1 | Một biện pháp tiết kiệm điện | 2006 | Cấp Trường | Chủ nhiệm |
| 2 | Ứng dụng mật mã ECC trong các trang Web thương mại điện tử | 2009 | Cấp Trường | Chủ nhiệm |
| 3 | Applications of fuzzy AHP, fuzzy neural networks, and fuzzy DEA to evaluate university performance (NSC101-2221-E-035-034) National Science Council of Taiwan (NSC) | 2013 | Cấp Nhà nước | Thành viên chủ chốt |
| 4 | Determining the relative weights of evaluation criteria based on Fuzzy AHP (NSC102-2221-E-035-040) National Science Council of Taiwan (NSC) | 2014 | Cấp Nhà nước | Thành viên chủ chốt |
| 5 | Using artificial intelligence techniques to diagnose machine fault (MOST 103-2221-E-035-052) - Ministry of Science and Technology (Taiwan) | 2015 | Cấp Nhà nước | Thành viên chủ chốt |
| 6 | Forecasting Energy Demands Using the Optimized Wavelet Neuro-Fuzzy System (MOST 104-2221-E-035-030), Ministry of Science and Technology (Taiwan) | 2016 | Cấp Nhà nước | Thành viên chủ chốt |
| 7 | Forecasting Traffic Flow by AI Techniques (MOST 106-2221-E-035-086) | 2017 | Cấp Nhà nước | Thành viên chủ chốt |
| 8 | Developing the MOTA framework (a joint project by Delft University of Technology - Netherlands and VNU - HCM) | 2018 | | Key participant |
2. Các công trình khoa học đã công bố
| | | | |
| --- | --- | --- | --- |
| 1 | "Mật mã lượng tử – một hướng mới trong bảo mật" | 2005 | Tạp chí Công nghệ thông tin và truyền thông, trang 43-45, số tháng 9, 2005, Việt Nam |
| 2 | "Thiết kế hệ thống SCADA cho điều khiển từ xa và thu nhận dữ liệu" | 2005 | Hội nghị khoa học toàn quốc về đo lường, trang 104-109, Việt Nam |
| 3 | "Hệ mật mã sử dụng đường cong elliptic" | 2005 | Tạp chí công nghệ thông tin và truyền thông, trang 37-39, số tháng 12, 2005 |
| 4 | "Giấu thông tin trong địa chỉ IP" | 2006 | Tạp chí công nghệ thông tin và truyền thông, trang 37-39, số tháng 9, 2006 |
| 5 | "Hệ mật mã elliptic sử dụng hệ thống số thạng dư" | 2010 | Tạp chí khoa học các trường đại học kỹ thuật, số 75, Tháng 9, 2010. |
| 6 | "An Evaluation of teaching performance: the fuzzy AHP and comprehensive evaluation approach" | 2013 | WSEAS Transactions on Information Science and Applications, Vol. 10, pp. 90-99, 2013; Print ISSN: 1790-0832, E-ISSN: 2224-3402, World Scientific and Engineering Academy and Society |
| 7 | "Evaluating faculty staff: an application of group MCDM based on the fuzzy AHP approach" | 2013 | International Journal of Information and management Sciences, Vol. 24, pp. 131-150, 2013; ISSN 1017-1819 |
| 8 | "A neuro-fuzzy approach in the classification of students' academic performance" | 2013 | Computational Intelligence and Neuroscience. vol. 2013, 2013; ISSN 1687-5265, UK |
| 9 | "Prioritizing the factor weights affecting the tourism performance by FAHP" | 2013 | International Journal of Engineering Business Management, vol. 5, 2013, SAGE Publications, USA |
| 10 | "Group multiple criteria decision making based on the fuzzy AHP approach" | 2014 | Encyclopedia of Business Analytics and Optimization, pp. 1100-1106, 2014.IGI-Global Publishing, USA |
| 11 | "Establishing the Index System for Sustainable Urban Transport Project Selection: an Application of Group MCDM based on the Fuzzy AHP Approach" | 2013 | International Journal of Business and Management Invention, Vol. 2, No. 6, pp. 47-57, 2013. |
| 12 | "A comparative study of hierarchical ANFIS and ANN in predicting student academic performance" | 2013 | WSEAS Transactions on Information Science and Applications, Vol. 10, No. 12, pp. 396-405, 2013; Print ISSN: 1790-0832 E-ISSN: 2224-3402, World Scientific and Engineering Academy and Society |
| 13 | "Training neural networks to predict student academic performance: A comparison of cuckoo search and gravitational search algorithms" | 2014 | International Journal of Computational Intelligence and Applications, Vol. 13, No. 1, pp. 1-18, 2014; Print ISSN: 1469-0268, Online ISSN: 1757-5885, World Scientific Publishing, Singapore |
| 14 | "A Hybrid Fuzzy AHP-DEA Approach for Assessing University Performance" | 2014 | WSEAS Transactions on Business & Economics, Vol. 11, pp. 386-397, 2014; Print ISSN: 1109-9526, E-ISSN: 2224-2899, World Scientific and Engineering Academy and Society |
| 15 | "Predicting Student Academic Performance: A Comparison of Two Meta-Heuristic Algorithms Inspired by Cuckoo Birds for Training Neural Networks" | 2014 | Algorithms, Vol. 7, No. 4, pp. 538-553, 2014; ISSN 1999-4893, Switzerland |
| 16 | "Forecasting Hoabinh Reservoir's Incoming Flow: An Application of Neural Networks with the Cuckoo Search Algorithm" | 2014 | Information, Vol. 5, No. 4, pp. 570-586, 2014; ISSN 2078-2489, Switzerland |
| 17 | "A cooperative Cuckoo Search–hierarchical adaptive neuro-fuzzy inference system approach for predicting student academic performance" | 2014 | Journal of Intelligent and Fuzzy Systems, Vol. 27, pp. 2551-2561, 2014; ISSN print 1064-1246, ISSN online 1875-8967, IOS Press, Amsterdam, The Netherlands |
| 18 | "A Hybrid Gravitational Search Algorithm and Back-Propagation for Training Feedforward Neural Networks" | 2014 | Knowledge and Systems Engineering, Advances in Intelligent Systems and Computing 326, pp. 381-392, 2014; ISSN 2194-5357, Springer Publishing, USA |
| 19 | "Integrating managerial preferences into the assessment by the fuzzy AHP/DEA approach: A case application in the assessment of university performance" | 2014 | DEPOCEN, Working Paper Series No. 2014/03, Development and Policies Research Center |
| 20 | "Evaluating teaching performance based on fuzzy AHP and comprehensive evaluation approach" | 2015 | Applied Soft Computing, Vol. 28, 2015, pp. 100–108, 2015; ISSN: 1568-4946, Elsevier, Amsterdam, The Netherlands |
| 21 | "Prediction of student academic performance using an ANFIS approach" | 2014 | International Journal of Information and management Sciences, Vol. 25, No. 4, pp 371-389, December 2014; ISSN 1017-1819 |
| 22 | "Applying TRIZ and Fuzzy AHP Based on Lean Production to Develop an Innovative Design of a New Shape for Machine Tools" | 2015 | Information, Vol. 6, No. 1, pp. 89-110, 2015; ISSN 2078-2489, Switzerland |
| 23 | "Training Artificial Neural Networks by a Hybrid PSO-CS Algorithm" | 2015 | Algorithms, Vol. 8, pp. 292-308, 2015; ISSN 1999-4893, Switzerland |
| 24 | "Predictions of Machine Vibrations based on Artificial Neural Networks" | 2014 | Proceedings of 2014 International Conference on Information and Management Sciences, 231-238, 2014-08. |
| 25 | Trapezoidal Fuzzy AHP and Fuzzy Comprehensive Evaluation Approaches for Evaluating Academic Library Service | 2015 | WSEAS Transactions on Computers, ISSN / E-ISSN: 1109-2750 / 2224-2880, Volume 14, 2015, pp. 607-619, 2015. |
| 26 | Group MCDM based on fuzzy AHP (invited talk) | 2015 | Seminar on Applying Fuzzy Theory to Conduct Research, Dai Nam University, March 20th, 2015. |
| 27 | An Approach to the Classification of Cutting Vibration on Machine Tools | 2016 | Information 2016, 7(1), 7; ISSN 2078-2489, Switzerland |
| 28 | A research of using Matlab and HFSS to design the microstrip antenna | 2016 | Internal journal of science and transport technology, No 02, 2016 , Việt Nam |
| 29 | A research on the design of heat soldering gun using Atmega8 microcontroller | 2016 | Vietnam Mechanical Engineering Journal, No 7, 2016; ISSN 0866-7056, Việt Nam |
| 30 | Forecasting Daily Electricity Load by Wavelet Neural Networks Optimized by Cuckoo Search Algorithm | 2017 | 5th International Conference on Smart Computing and Artificial Intelligence (SCAI 2017), Japan |
| 31 | Mô hình hóa lưu lượng giao thông bằng phương pháp Nagel-Schreckenberg (Modelling traffic flow using the Nagel-Schreckenberg approach) | 2016 | Kỷ yếu Hội thảo Nhà khoa học trẻ ngành Giao thông vận tải năm 2016 |
| 32 | A Creative Research Based on DANP and TRIZ for an Innovative Cover Shape Design of Machine Tools | 2017 | Journal of Engineering Design (CJEN), DOI: 10.1080/09544828.2016.1272100, http://dx.doi.org/10.1080/09544828.2016.1272100; Print ISSN: 0954-4828 Online ISSN: 1466-1837, Taylor & Francis Group, London, England |
| 33 | Forecasting Monthly Electricity Demands: An Application of Neural Networks Trained by Heuristic Algorithms | 2017 | Information 2017, 8(1), Switzerland |
| 34 | Mô hình hóa lưu lượng GT bằng phương pháp NS | 2016 | Tạp chí Giao thông vận tải. Số đặc biệt (Năm thứ 58), ISSN 2354-0818. |
| 35 | Predictions of Machine Vibrations Using Artificial Neural Networks Trained by Gravitational Search Algorithm and Back-Propagation Algorithm | 2017 | International Journal of Artificial Intelligence, Volume 15, Number 1, pp 93-111, CESER Publications |
| 36 | The Impact of Cross-cultural Perspectives on Job Satisfaction with National Policy as a Mediator | 2017 | 2017 International Conference on Current Research in the field of Social Sciences, Strategic Management and Applied Sciences (ISBN: 978-969-670-826-1), Tokyo, Japan |
| 37 | Forecasting Daily Electricity Load by Wavelet Neural Networks Optimized by Cuckoo Search Algorithm | 2017 | 2017 6th IIAI International Congress on Advanced Applied Informatics (IIAI-AAI), Pages: 835 - 840, (ISBN: 978-1-5386-0621-6), DOI: 10.1109/IIAI-AAI.2017.89, IEEE |
| 38 | A Case Study of Vietnamese Workers in Taiwan: Determinants and their Impacts on Job Satisfaction | 2017 | International Journal of Applied Business and Economic Research, Volume 15, Number 22 (Part-III), pp. 111-126., EconLit |
| 39 | The impact of cross-cultural adaptation on job satisfaction with national policy as a moderator - based on Vietnamese workers as an example | 2018 | International Journal of Economics and Research, IJER – MARCH – APRIL 2018, pp. 6-21, EconLit |
| 40 | Forecasting Monthly Electricity Demands by Wavelet Neuro-Fuzzy System Optimized by Heuristic Algorithms | 2018 | Information 2018, 9(3), 51, Switzerland |
| 41 | Forecasting short-term traffic flow using Fuzzy Wavelet Neural Network trained by Cuckoo Search Algorithm | 2018 | Proceedings of Universal Academic Cluster International Conference, pp 1-10, Japan |
| 42 | Forecasting Short-term Traffic Flow by Fuzzy Wavelet Neural Network with Parameters Optimized by Biogeography-Based Optimization Algorithm | 2018 | Computational Intelligence and Neuroscience, Vol. 2018 |
| 43 | Impacts of Dividend Announcement on Stock Price: An Empirical Study | 2018 | Journal of Business and Management Sciences. 2018, 6(2), 59-69. DOI: 10.12691/jbms-6-2-6 |
| 44 | An Approach based on Artificial Neural Networks trained by Heuristic Algorithms to the Prediction of Exhaust Emissions and Performance of a Diesel Engine Fuelled with Biodiesel Blends (a case study of Huyndai D4CB 2.5 engine in Vietnam) | 2019 | Springer Tracts in Nature-Inspired Computing (STNIC) |
3. Giáo trình, tài liệu đã xuất bản
| | | | |
| --- | --- | --- | --- |
| 1 | Group MCDM Based on the Fuzzy AHP Approach, ISBN13: 9781466652026|ISBN10: 1466652020|EISBN13: 9781466652033|DOI: 10.4018/978-1-4666-5202-6; DOI: 10.4018/978-1-4666-5202-6.ch100 | 2014 | IGI Global, Hershey, Pennsylvania (USA) |
| 2 | Using artificial intelligence to predict academic performance, ISBN: 978-3-659-77979-4 | 2015 | Lambert Academic Publishing, Germany |
| 3 | Kiến trúc máy tính (ISBN: 978-604-913-606-1) | 2017 | Nhà xuất bản Khoa học tự nhiên & Công nghệ |
| 4 | Điện tử số (ISBN: 978-604-76-1612-1) | 2018 | Nhà xuất bản GTVT |
| 5 | A Novel Research for an Innovative Cover Shape Design of Machine Tools (ISBN: 978-620-2-00805-1) | July 25, 2017 | Germany, available on Amazon (https://www.amazon.com/Novel-Research-Innovative-Design-Machine/dp/6202008059/ref=sr_1_1?s=books&ie=UTF8&qid=1504619732&sr=1-1) |
4. Hướng dẫn sau đại học
| | | | | |
| --- | --- | --- | --- | --- |
| 1 | Ho-Nien Shieh | Design of Decision Making Process Using Fuzzy AHP | Tiến sĩ | 2017 |
| 2 | Nguyễn Thị Hồng Huệ | | Thạc sĩ | 2017 |
| 3 | Nguyễn Văn Học | | Thạc sĩ | 2017 |
| 4 | Phạm Thị Thúy Hà | | Thạc sĩ | 2017 |
| 5 | Nguyễn Đức Thịnh | | Thạc sĩ | 2018 |
| 6 | Ngô Tuấn Phương | | Thạc sĩ | 2018 |
| 7 | Lương Việt Thắng | | Thạc sĩ | 2018 |
Các hướng nghiên cứu quan tâm
---